The cryptocurrency market could not build on its positive performance over the weekend, with Bitcoin and other major coins now underperforming.
ATOM Fails to Top the $45 Resistance Level
ATOM, the native token of the Cosmos ecosystem, reached the $44 mark yesterday but was unable to break past the $45 resistance level and set a new all-time high. The performance yesterday mirrored the coin's performance earlier this month.
However, since reaching the $44 yesterday, ATOM has been underperforming. The coin has lost more than 9% of its value in the last 24 hours and is currently trading above the $38 mark.
Cosmos is a project that aims to create a network of different blockchains that are interoperable. Its main chain Cosmos Hub serves as a central ledger for compatible blockchains dubbed Zones. The Zones are highly customizable, making it easier for developers to design their own cryptocurrencies.
There is no major catalyst behind ATOM's recent poor performance except the poor performance from the market. The broader cryptocurrency market has underperformed over the past 24 hours, and the total market cap could drop below the $2 trillion mark soon if the poor performance continues.
ATOM Could Slip Below the $35 if Bearish Trend Continues
The ATOM/USD daily chart is still looking bullish despite the cryptocurrency's poor performance over the past few hours. However, if the bearish trend continues, ATOM could record further losses before the end of the day.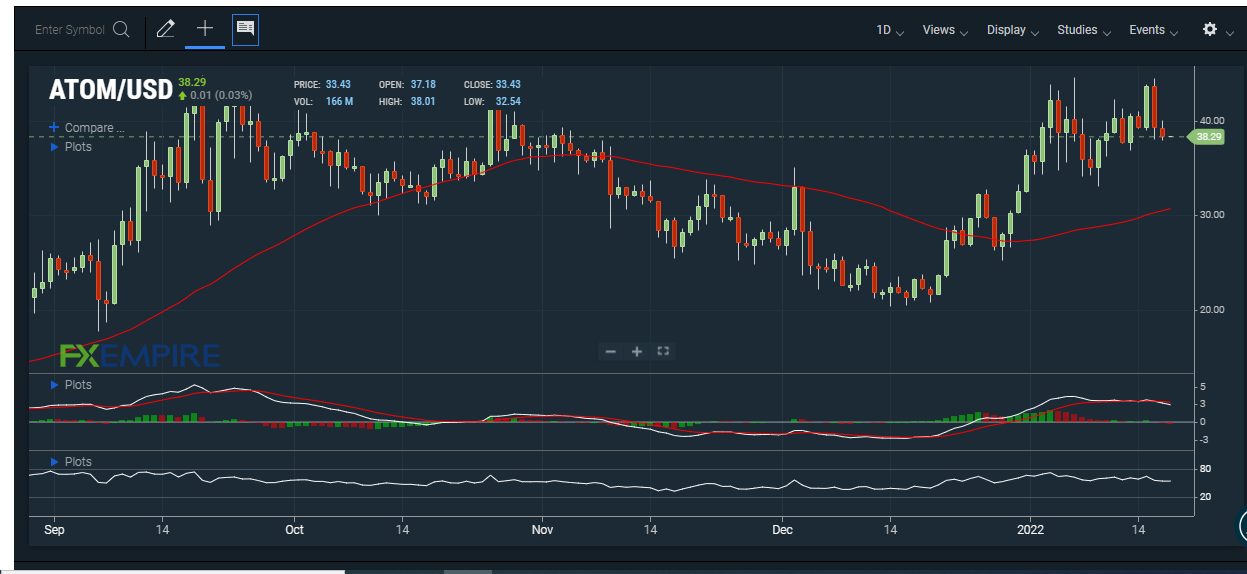 At press time, ATOM is trading at $38.3, above its 50-day moving average price of $30.44. The MACD line is currently in the positive zone, thanks to the coin's excellent performance since the start of the year.
The 14-day RSI of 54 shows that ATOM is still in the neutral zone. However, continued bearish performance could see ATOM slip into the oversold region. ATOM risks dropping below the $35 support level in the coming hours if the market condition remains unchanged.