The Australian Dollar is trading flat on Monday on low volume due to a U.S. bank holiday. The move follows a steep decline the previous session that was fueled by expectations of more aggressive rate hikes by the U.S. Federal Reserve. Meanwhile, mixed economic news from China failed to move the needle in either direction.
At 11:09 GMT, the AUD/USD is trading .7227, up 0.0010 or +0.13%. On Friday, the Invesco CurrencyShares Australian Dollar Trust (FXA) settled at $72.18, up $0.02 or +0.03%.
In domestic news, investors are betting the sharp hawkish shift by the Federal Reserve will put pressure on the Reserve Bank of Australia (RBA) to follow and tighten well before its preferred window of 2023.
Meanwhile, data out of China showed coronavirus restrictions badly hurt retail sales in December, though industrial output fared better and the economy overall grew a bit faster than forecast in the fourth quarter.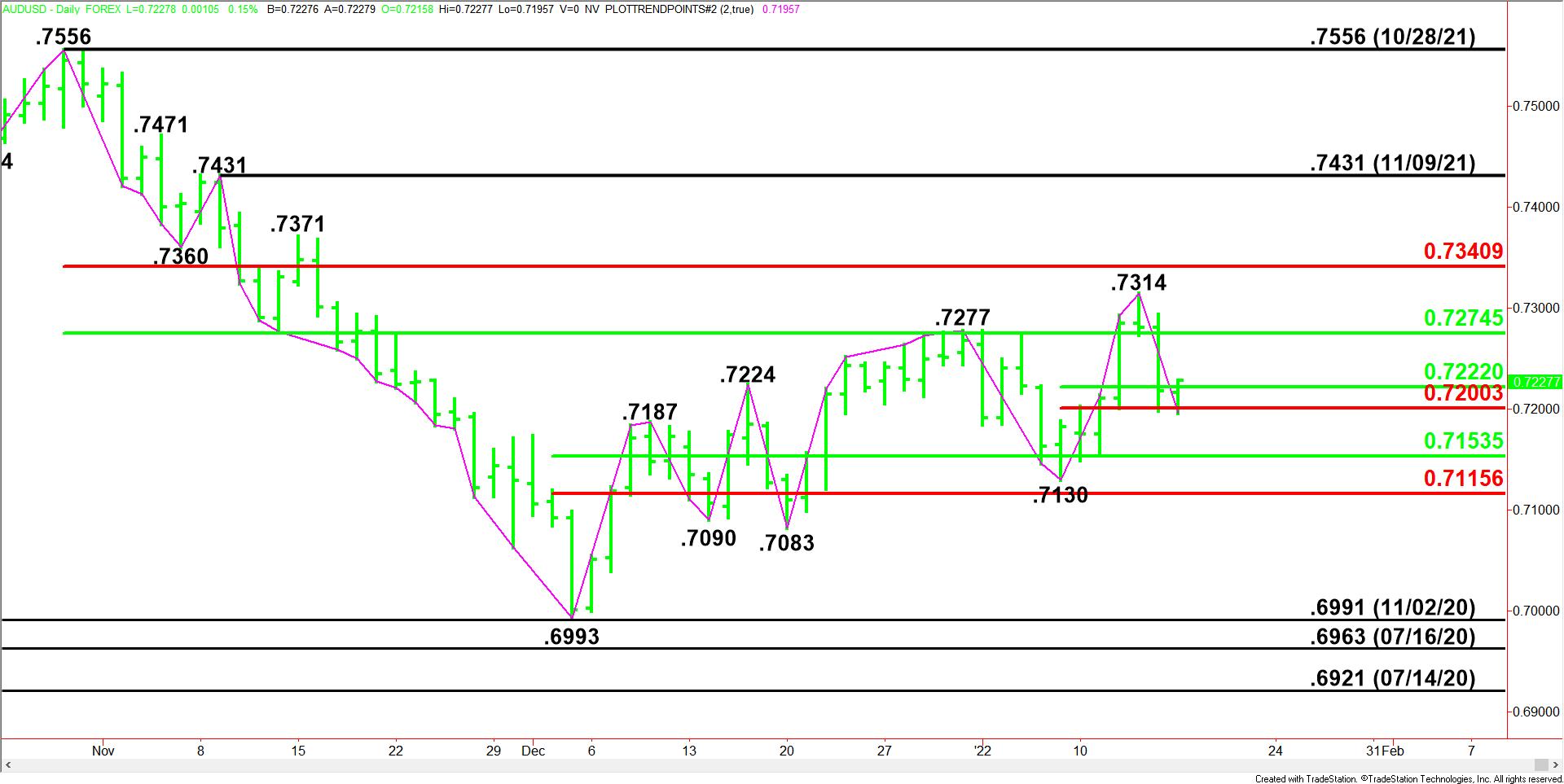 Daily Swing Chart Technical Analysis
The main trend is up according to the daily swing chart. However, momentum has been trending lower since the formation of the closing price reversal top on January 13.
A trade through .7314 will negate the closing price reversal top and signal a resumption of the uptrend. A move through .7130 will change the main trend to down.
The minor range is .7130 to .7314. The AUD/USD is currently testing its retracement zone at .7222 to .7200. Buyers are trying to form a potentially bullish secondary higher bottom.
The short-term range is .6993 to .7314. Its retracement zone at .7153 to .7116 is support.
The main range is .7556 to .6993. Its retracement zone at .7275 to 7341 is resistance. This zone stopped the rally at .7314 on January 13.
Daily Swing Chart Technical Forecast
The direction of the AUD/USD on Monday is likely to be determined by trader reaction to .7222 and .7200.
Bullish Scenario
A sustained move over .7222 will indicate the presence of buyers. If this creates enough short-term momentum then look for a surge into the main 50% level at .7275.
Bearish Scenario
A sustained move under .7200 will signal the presence of sellers. If this move generates enough downside momentum then look for the selling to possibly extend into .7153 to .7116.