Outlier stocks are the ones that account for a lion's share of the gains of the stock market. One thing they have in common is the same ones keep appearing. These 5 were on that list.
Great quality stocks have a few things in common. I focus on the following key fundamentals:
1 Year Sales Growth
3 Year Sales Growth
1 Year Earnings Growth
3 Year Earnings Growth
Profit Margin
Debt/Equity
Big Money Outliers meet strict criteria. All of these 5 stocks have great growing sales, earnings, and profits.
The real test is if Big Money is buying the stocks. By finding the ones most frequently on the Top 20 report, we get a quick filter for the best of the best. In order to even get on one instance of a MAP Top 20 report, the stock needs to have superior fundamentals and get some Big Money Buy Signals. The Top 20 stocks are the best 20 out of over 6,000 every week.
So, when they appear frequently over just six months, it means it has great potential.
So, let's dive into the best potential outlier stocks to buy for August 2021. On this list we have one established outlier and 4 maturing stocks. The ones maturing are where we find potential undervalued future outliers. In summer volatile months, it can be a good time to size up stocks under a little pressure.
Up first is D.R. Horton, Inc. (DHI) which boasts great fundamentals (source FactSet) and big money buying:
Celsius Holdings, Inc. (CELH) is a young up-and-comer. Fundamentals (source FactSet) are quickly strengthening and big money seems to love the stock:
Up next is the ailing Tencent Music Entertainment Group (TME). The stock has been punished starting in February from the Archegos blow-up. Recent Chinese IPO and regulation fears have amped up selling. It's pushed this strong grower down to incredibly cheap levels. The Chinese population will not stop streaming music because of a few scary headlines. Check out these numbers (source FactSet):
Calix, Inc. (CALX) is a newer name on our radar. It boasts strong fundamentals (source FactSet) and a lot of big money interest.
To round out the list this month, we have Brooks Automation, Inc. (BRKS). It's got solid growth and low debt (Source FactSet). With lots of big money interest, it's quickly maturing into a potential outlier stock: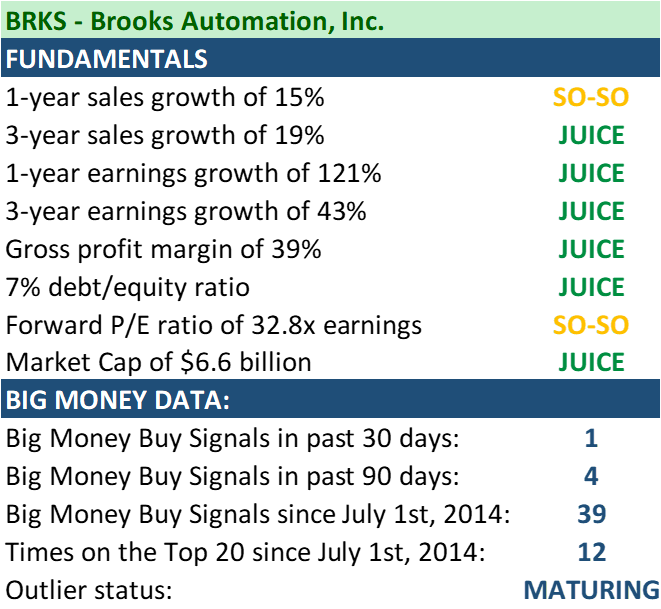 And there we have it. A great quality-stuffed list of the best potential outliers for August of 2021.
The way I found these stocks was fairly simple. I used MAPsignals.com to make the quantitative analysis of mounds of daily stock data fast and simple. Looking back at 30 years of outliers shows me 2 clear things:
Outliers keep appearing time and time again.
When they do, those can be winners for years to come.
When Big Money is buying the best quality stocks, we should always take notice. But when they become outliers, that's where the big potential winners are.
The Bottom Line
DHI, CELH, TME, CALX, & BRKS represent the best stocks for August 2021. Based on strong fundamentals and Big Money buy signals year after year, these are worth further investigation.
To learn more about MAPsignals' Big Money process please visit: www.mapsignals.com
Disclosure: the author holds no positions in DHI, CELH, TME, CALX, & BRKS at the time of publication.