As of writing, 4:22 PM Eastern standard Time BTC is poised to close near its highs on the day and solidly above resistance at $40,000. However, the next level of minor resistance is $42,000 which was only $500 or so away from today's high.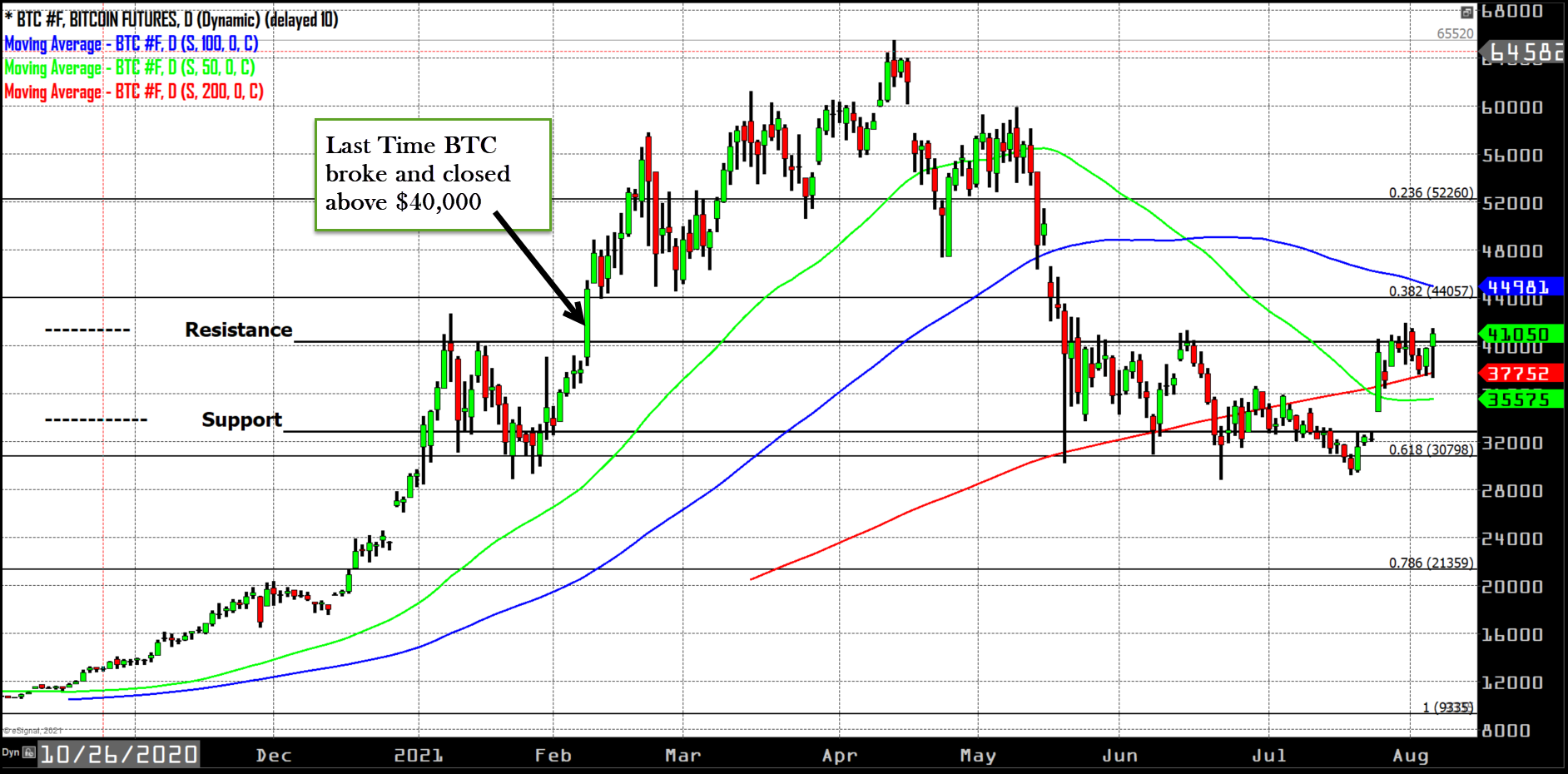 Another interesting facet is Bitcoin came close to matching Ethereum in gains today, 3.28% compared to Ether's 3.9%. And while Ethereum's market dominance has remained steadfast at 19% since April, Altcoins had been taking a bigger piece of the market cap. Away from Bitcoin, that trend has just recently shifted. Consider that for the last year, Bitcoin averaged below 50% dominance, but in the past four months it only popped above 50% for brief spurts that coincided with alt. coin drops in market cap.
Bitcoin has seen dominance levels this low before back in 2018, only to recover market share after a six-month slump. I think it helps not to think of market dominance moving in straight lines but rather oscillating ratios.
Consider this the last time that BTC features broke solidly above $40,000 was May 8, 2021, the day that Tesla announced it had purchased billions in Bitcoin and would be soon accepting it as payment for their EVs. So, today's close above $40,000 should not be overlooked in its significance. Not only was this the launchpad for pricing in early May, but for the last three months has served as absolute resistance. We also retested the support at a 200-day moving average currently pegged at $37,752 and has successfully held for the past three days, making me feel comfortable in saying that support is definitely at $37,750.
This is a very bullish setup for the world's first digital asset and the only real resistance does not come in until approximately $44,000. That is why I believe we will see that price by the end of next week. Especially if we can hold and successfully flip $40,000 to the new support level, then $52,000 in the near term (1 to 2 months) is not only on the table. It's the prime rib served to you on a silver platter.