Bitcoin (BTC/USD) has slowed down in the past 2 weeks. Price action is moving sideways and failing to break below the bottom or above the top.
Based on the Elliott Wave patterns and Fibonacci levels, we do expect a bullish reversal to occur in the near future. Price has in fact already made such a first bounce at the 78.6% Fibonacci level as mentioned in our previous analysis.
Price Charts and Technical Analysis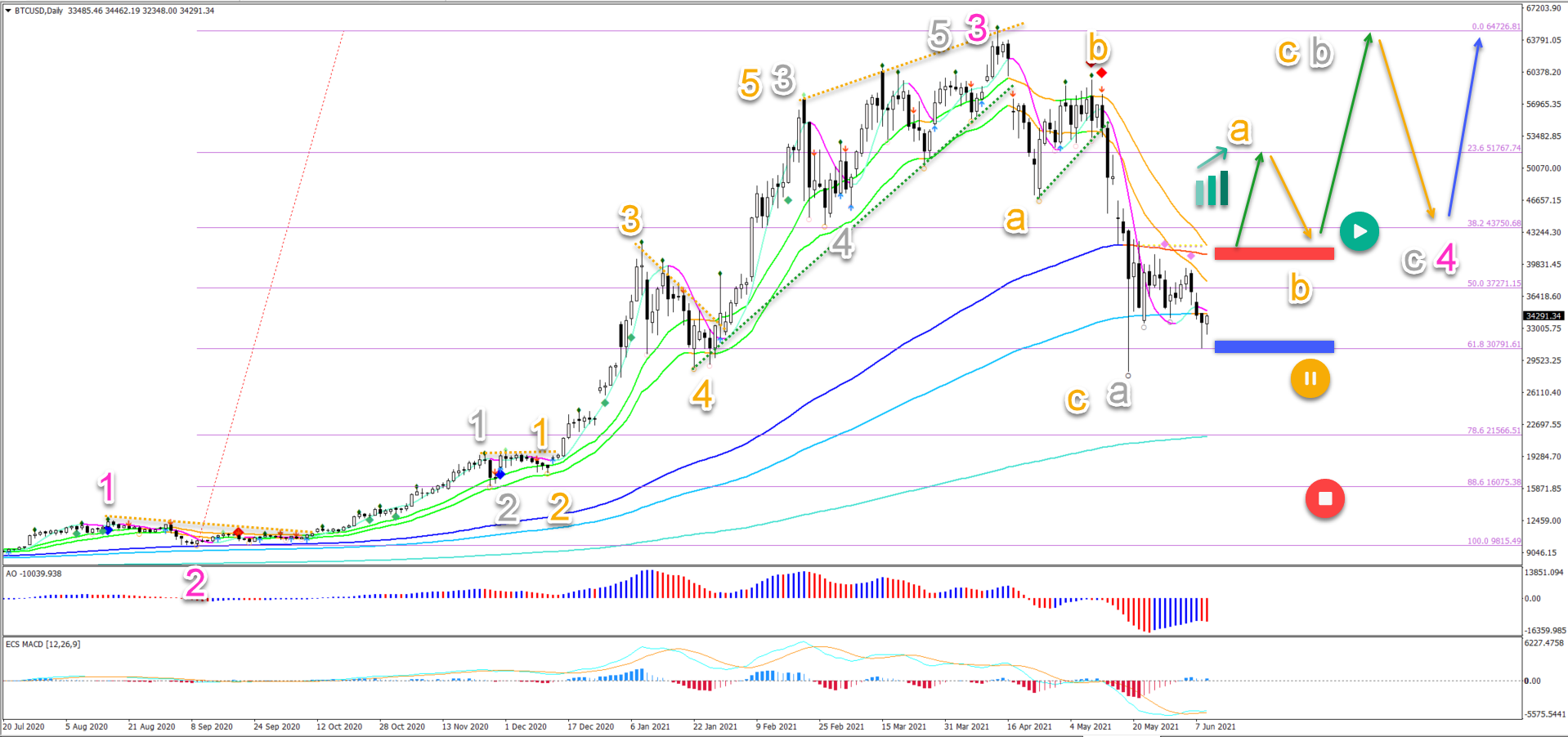 BTC/USD is retesting the 61.8% Fibonacci retracement support level. Yesterday's daily candle saw a bullish wick emerge after hitting that Fibonacci level again. Here is the context and what we expect next:
A deep ABC (orange) correction is probably part of a larger ABC (grey) pattern in wave 4 (pink).
The recent low and bounce at the 61.8% Fib probably indicates the end of the wave A (grey) and start of the wave B (grey).
The bearish move to test the bottom does not change anything to this outlook. Only a break below the bottom places it on hold (orange circle) whereas a deep retracement invalidates it (red circle).
A breakout (green arrows) above the resistance zone (red box) and 21 emas should confirm a push up to test the previous top.
Eventually an uptrend (blue arrow) is expected to take price for a higher high and confirm the 345 waves (pink).
On the 4 hour chart, price action is probably building an ABC (green) or 123 pattern:
The ABC or 123 remains valid as long as price stays above the 100% Fib and bottom.
A break below the bottom invalidates it (red circle).
A break above (green arrows) the resistance trend line (orange) and 21 ema zone could indicate a higher low and soon even a higher high.
The 78.6% FIbonacci retracement level (blue box) is a key support zone.
Good trading,
Chris Svorcik
The analysis has been done with the indicators and template from the SWAT method (simple wave analysis and trading). For more daily technical and wave analysis and updates, sign-up to our newsletter
For a look at all of today's economic events, check out our economic calendar.