Key Points
Oil prices rallied sharply on Monday amid risk-on flows/European gas crisis woes, with WTI recovering back above $100.
But WTI remains in the same downtrend that has weighed on prices since mid-June.
Natural gas and industrial metals also rose amid improved risk appetite, while gold struggled to get above key resistance.
Market Update
Oil prices rallied hard on Monday, with sentiment bolstered by a weaker US dollar risk-on flows across asset classes that also saw stocks, risk-sensitive currencies and cryptocurrencies rise. CFDs for the front-month WTI futures contract were last up slightly more than 4.0% or roughly $4.0 on Monday, with prices vaulting from earlier session lows near $96.00 per barrel to current levels around $101.50.
European Gas Crisis Underpins Oil
Market commentators also cited concerns about gas supply from Russia to Europe as boosting prices via a higher geopolitical risk premia. "Crude will find support at the end of the week if Russia does not turn the gas back on to Germany after Nord Stream 1 maintenance", said Jeffrey Halley, OANDA's senior analyst, in a note to clients on Monday.
Nord Stream 1 maintenance is scheduled to end on Thursday, but reports on Monday that Russia's state-owned gas producer/exporter Gazprom had declared a force majeure to one of its major customers has upped fears that the pipeline won't be reopened.
WTI Still in Bearish Trendchannel
Despite recent upside that has now seen WTI bounce over $10 from last week's multi-month lows below the 200-Day Moving Average (at $94.30) and just above the $90 per barrel mark, oil remains within a bearish trend channel that has been in play since June. In the absence of a convincing push above say the 21DMA around $104, which would improve the near-term technical outlook, WTI remains at risk of further losses.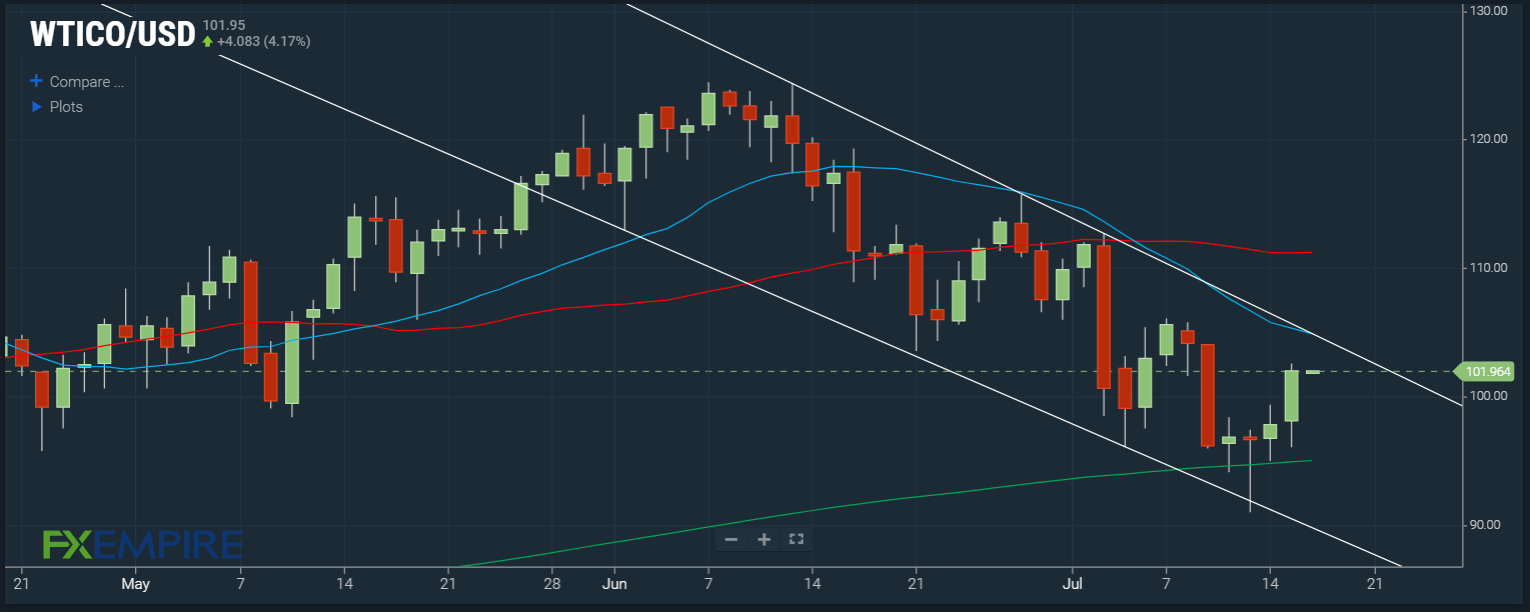 Growing fears about a global recession over the last few weeks, coupled with continued stop-start lockdowns/restrictions in China as the nation struggles to implement its zero Covid-19 strategy have weighed heavily on prices in recent weeks. As recently as early June, WTI was above $120.
But, for now, WTI is holding above key support in the low-$90s in the form of March/April lows and its 200DMA. Global oil markets remain tight, with OPEC+ having struggled in the last 18 or so months to lift output as fast as it wanted. US President Joe Biden's trip to the Middle East last week seemingly failed to result in any pledge to increase output. Analysts say the only countries with any serious spare capacity to boost output are Saudi Arabia and the UAE.
Natural Gas, Copper Rally as Risk Appetite Rebounds
The upbeat tone to risk appetite, upside in global oil prices and also some modest spillover impact from increased concerns about Europe's energy situation as tensions with Russia escalate is helping to support US natural gas prices on Monday. CFDs for front-month Natural Gas futures were last up over 4.0%, or just over 30 cents, to around $7.40. At current levels, US Natural Gas is testing its 50DMA, a break above which could open the door to a test of resistance in the $8.0 area.
Elsewhere, industrial metals are also moving higher, boosted by the weaker US dollar as well as hopes that the Chinese government might successfully stimulate construction activity in the country as its property sector continues to struggle. Reports on Monday said that regulators there are stepping up efforts to encourage loans to qualified real estate projects.
Copper CFDs were last up around 3% or just over 10 cents on Monday in the $3.3 area. A weaker US dollar makes USD-denominated commodities like spot Copper cheaper for foreign buyers. Copper is still down over 25% versus its early June levels near $4.50 and around one-third versus earlier annual highs above $5.0.
Risk-on Flows Prevent Gold Recovery
The upturn in risk appetite that is boosting risk-sensitive assets such as stocks, energy prices, industrial metals, risk-sensitive commodities and crypto is weighing on demand for safe-haven precious metals like gold. Spot gold prices were last just above $1710, still about 0.25% higher on the day, but having pulled back over $10 from earlier session highs near $1,724.
Gold had rallied earlier in the session amid a weakening US dollar and as investors pared back on aggressive Fed tightening bets. Technical selling also seemed to weigh on gold. Traders appeared reluctant to push spot prices back to the north of the September 2021 low around $1,722. Spot silver, meanwhile, was last trading higher by about 1.0%, though has been unable to rally back above $19 per troy ounce.
Despite the uptick in global recession fears and worsening of the European energy crisis in recent weeks, dollar strength and Fed tightening bets have weighed heavily on precious metals. Gold is down nearly 7.0% since the start of June, whilst silver is down over 12%.