June E-mini Dow Jones Industrial Average futures are edging lower in a directionless trade on Wednesday ahead of minutes from the Federal Reserve's May meeting, which will likely offer clues on the path of future rate hikes.
The minutes are due at 18:00 GMT. U.S. Federal Reserve Chair Jerome Powell has promised to keep pushing on rate hikes until there is clear and convincing evidence that inflation is dropping.
At 17:05 GMT, the June E-mini Dow is trading 31836, down 44 or -0.14%. The SPDR Dow Jones Industrial Average ETF (DIA) is at $318.61, down $0.78 or -0.24%.
"Today, FOMC (Federal Open Market Committee) members' views on how quickly they anticipate inflation to come down, as well as any potential revelations on balance sheet reduction will be scrutinized by investors," Raffi Boyadjian, lead investment analyst at brokerage XM, said.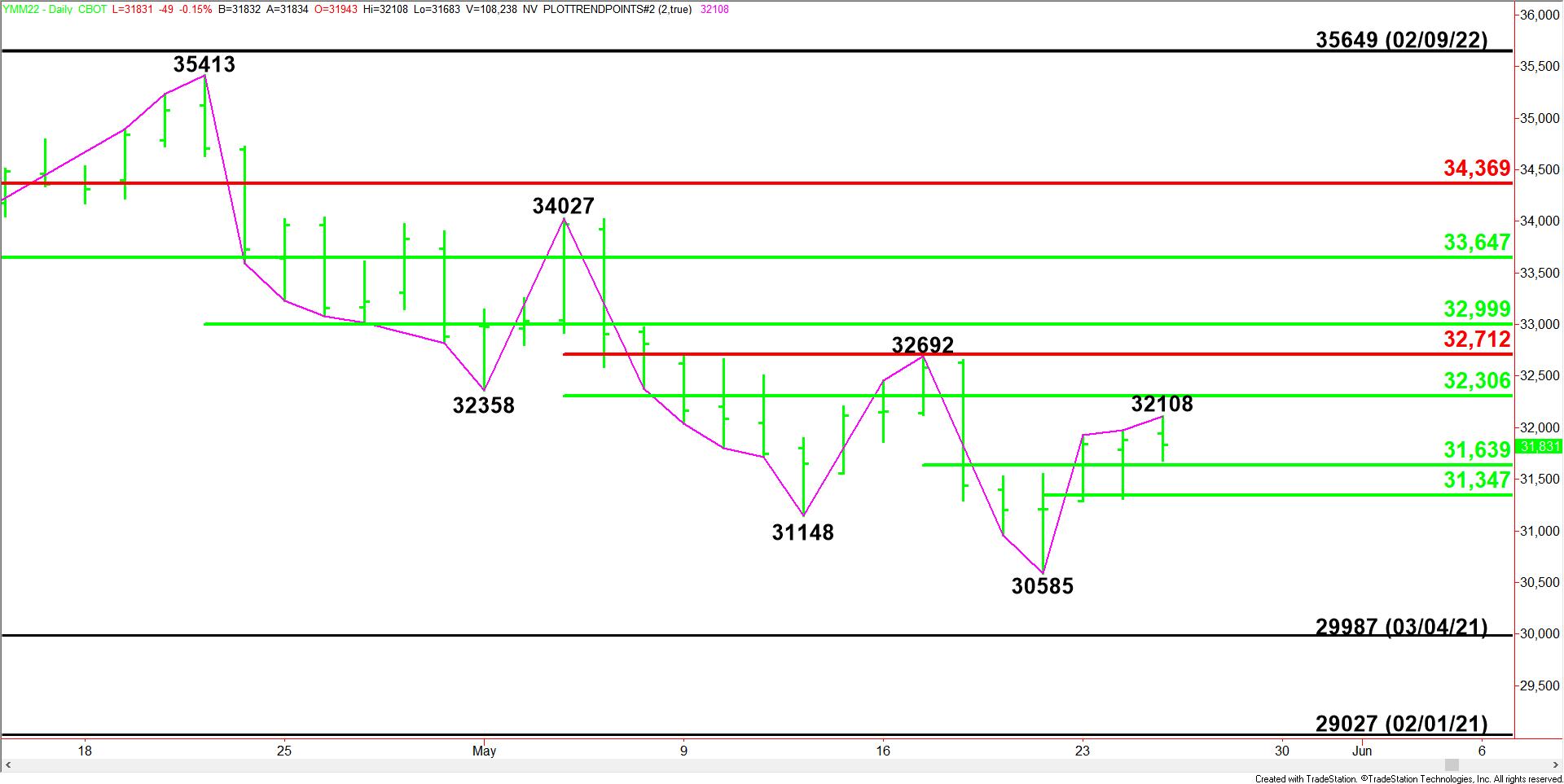 Daily Swing Chart Technical Analysis
The main trend is down according to the daily swing chart, however, momentum is trending higher. A trade through 32692 will change the main trend to up. A move through 30585 will signal a resumption of the downtrend.
The minor trend is up. This is controlling the momentum.
On the downside, the nearest support is a pair of pivots at 31639 and 31347.
On the upside, the first resistance is a short-term 50% level at 32306, followed by a resistance cluster at 32692 – 32712.
Daily Swing Chart Technical Forecast
Trader reaction to 31639 will determine the direction of the June E-mini Dow Jones into the close on Wednesday.
Bullish Scenario
A sustained move over 31639 will indicate the presence of buyers. Taking out the intraday high at 32108 will indicate the buying is getting stronger. This could trigger a surge into 32306.
Sellers could come in on the first test of 32306, but taking it out with strong buying volume could trigger a surge into the resistance cluster at 32692 – 32712.
Bearish Scenario
A sustained move under 31639 will signal the presence of sellers. The next downside target is a pivot at 31347. Aggressive counter-trend buyers could come in on a test of this level. They are going to try to form a secondary higher bottom.
A drive through 31347 with strong volume, however, could trigger an acceleration to the downside with 30585 the best target.