December E-mini Dow Jones Industrial Average futures turned negative for the day shortly after the mid-session. The cash market Dow also erased a 294-point rally, led by a drop in shares of Apple. The blue chip market is on track to post big losses for the holiday-shortened week. The Dow is down 1.7%.
At 17:23 GMT, December E-mini Dow Jones Industrial Average futures are trading 27402, down 24 or -0.09%.
In economic news, U.S. consumer prices rose solidly in August, with the cost of used cars and trucks increasing by the most in more than 51 years likely as Americans shunned public transportation because of fears of contracting COVID-19.
The consumer price index increased 0.4% last month, also lifted by gains in the costs of gasoline, recreation and household furnishings and operations. The CPI advanced 0.6% in both June and July after failing in the prior three months as business closures to slow the spread of the coronavirus depressed demand.
In the 12 months through August, the CPI increased 1.3% after gaining 1.0% in the 12 months through July. Economists polled by Reuters had forecast the CPI would rise 0.3% in August and climb 1.2% on a year-on-year basis.
In the 12 months through August, the so-called core CPI climbed 1.7% after rising 1.6% in July.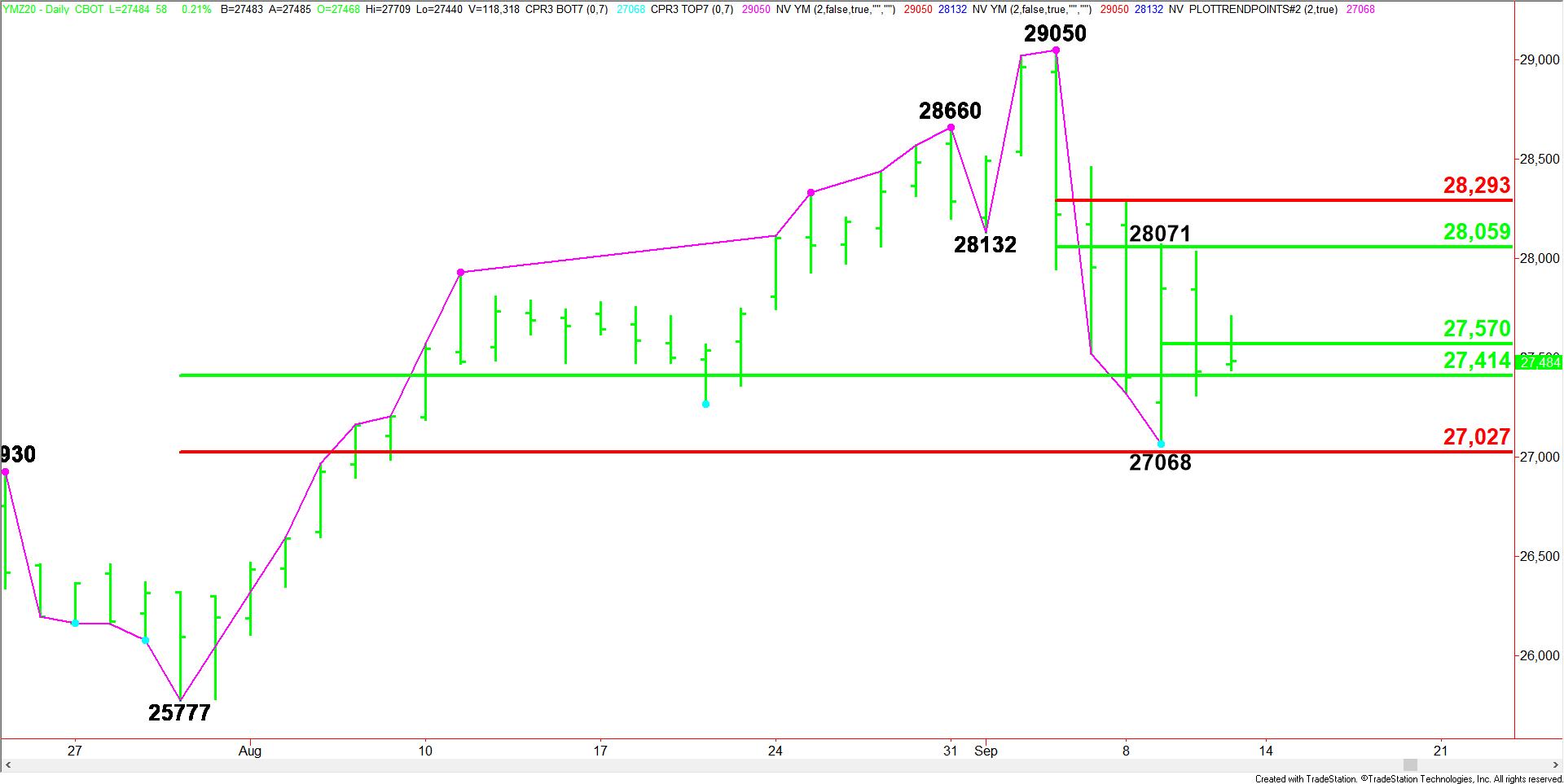 Daily Swing Chart Technical Analysis
The main trend is down according to the daily swing chart. A trade through 27068 will signal a resumption of the downtrend. A move through 29050 will change the main trend to up.
The short-term range is 29050 to 27068. Its retracement zone at 28059 to 28293 is resistance. This zone stopped the buying on Wednesday at 28071.
The minor range is 27068 to 28071. Its 50% level or pivot is 27570. This level is controlling the direction of the Dow on Friday.
The main range is 25777 to 29050. Its retracement zone at 27414 to 27027 is major support. It is currently being tested. It stopped the selling on Wednesday at 27068.
Short-Term Outlook
Based on the early price action, the direction of the December E-mini Dow Jones Industrial Average into the close on Friday is likely to be determined by trader reaction to the pivot at 27570.
Bearish Scenario
A sustained move under 27570 will indicate the presence of sellers. The first downside target is the major 50% level at 27414. A sustained move under this level could trigger an acceleration to the downside with the next major targets a minor bottom at 27068 and the main Fibonacci level at 27027.
Bullish Scenario
Overtaking and sustaining a rally over 27570 will signal the return of buyers. A late session buying spree could lead to a retest of 28059 to 28071.