September E-mini S&P 500 Index futures are edging lower in the pre-market session on Thursday after finishing unchanged the previous session. The listless price action is the result of the Federal Reserve offering no clues about when it might start reducing or tapering its purchases of government bonds, even though it said in its monetary policy statement the economic recovery is on track.
At 04:29 GMT, September E-mini S&P 500 Index futures are trading 4388.00, down 5.75 or -0.13%.
In after-hours trading, PayPal and Facebook are down 5% and 3% respectively, after warning of significant growth slowdown as they reported quarterly earnings. But, shares of Ford jumped nearly 4% after it raised it 2021 outlook, saying it's selling more cars that are more expensive, though it missed analysts' estimates on earnings.
Looking ahead to Thursday, Amazon, Pinterest and Anheuser-Busch are set to report earnings Thursday. Traders will also watch out for the latest readings on initial jobless claims and pending home sales.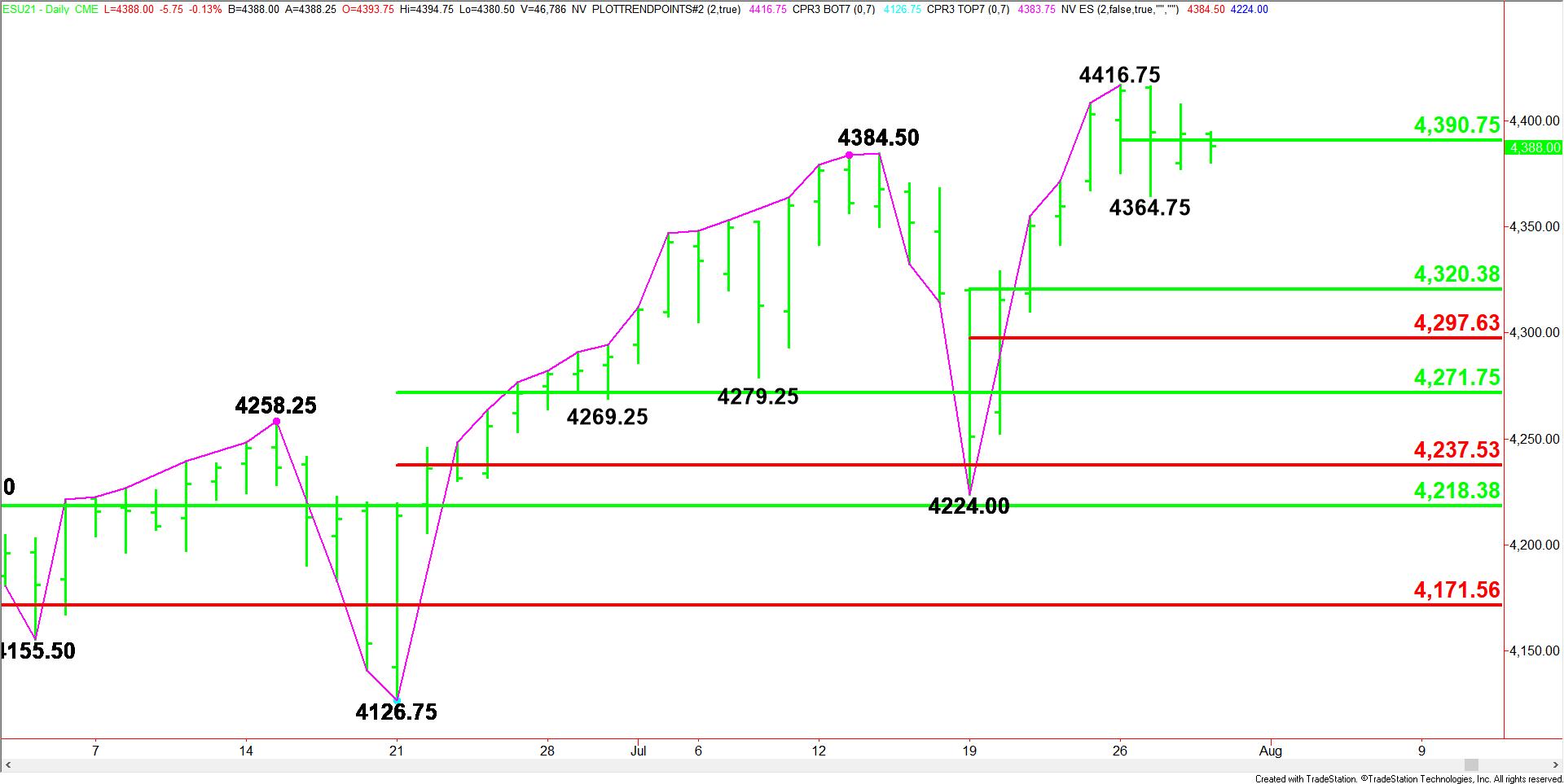 Daily Swing Chart Technical Analysis
The main trend is up according to the daily swing chart. A trade through 4416.75 will signal a resumption of the uptrend. The main trend will change to down on a move through 4224.00.
The minor range is 4416.75 to 4364.75. The index is currently straddling its pivot at 4390.75.
The short-term range is 4224.00 to 4416.75. If the selling pressure continues over the near-term then look for an eventual test of its retracement zone at 4320.25 to 4297.50.
Daily Swing Chart Technical Forecast
The direction of the September E-mini S&P 500 Index early in the session on Thursday is likely to be determined by trader reaction to the pivot at 4390.75.
Bullish Scenario
A sustained move over 4390.75 will indicate the presence of buyers. If this move is able to generate enough upside momentum then look for buyers to make a run at the 4416.75 record high. This is a big "if", however, since the market looks top heavy.
Bearish Scenario
A sustained move under 4390.75 will signal the presence of sellers. If this move creates enough downside momentum then look for a possible test of this week's low at 4364.75.
Although it is neither a minor nor a main bottom, 4364.75 could be the trigger point for an acceleration to the downside since the daily chart indicates there is no major support until the short-term retracement zone at 4320.25 to 4297.50.