The GBP/USD is testing the top of the 21 ema zone and key long-term resistance trend line (orange). Price action is staying above the 21 ema zone so a bullish breakout is expected.
This article reviews implications of the break for the year 2021. We also analyse the expected wave and chart patterns.
Of course, keep in mind that the brexit process, Covid-19, global economy, the UK and US economies, and geopolitics could at any point during 2021 change the expected course of price in a different direction. We will do updates during 2021 as well on the long-term vision.
Price Charts and Technical Analysis
The GBP/USD seems to have completed a wave 5 of wave C (blue) at the most recent low.
The double divergence between the lows is certainly a key factor (purple line). This could indicate the end of a long-term downtrend.
A bullish breakout above the resistance (orange) seems likely when taking into account the strong bullish price action. This indicates a possible bullish wave A or 1 (blue).
After a potential breakout (green arrow), a retracement (orange arrows) is expected to take place. A bearish ABC could take price back to the low 1.20s. This should complete a wave B or 2 (blue).
On the daily chart, the GBP/USD seems to be building a final wave 5 (purple). The current test of the 21 ema zone is either a reversal or a wave 4 (green).
A bullish breakout indicates one more push higher within the current uptrend. Main targets are located at 1.3750, 1.3850, and 1.40.
However, if price action breaks below the support zone (green box and lines), then a downtrend is expected to create a wave B/2 (blue) on the monthly chart.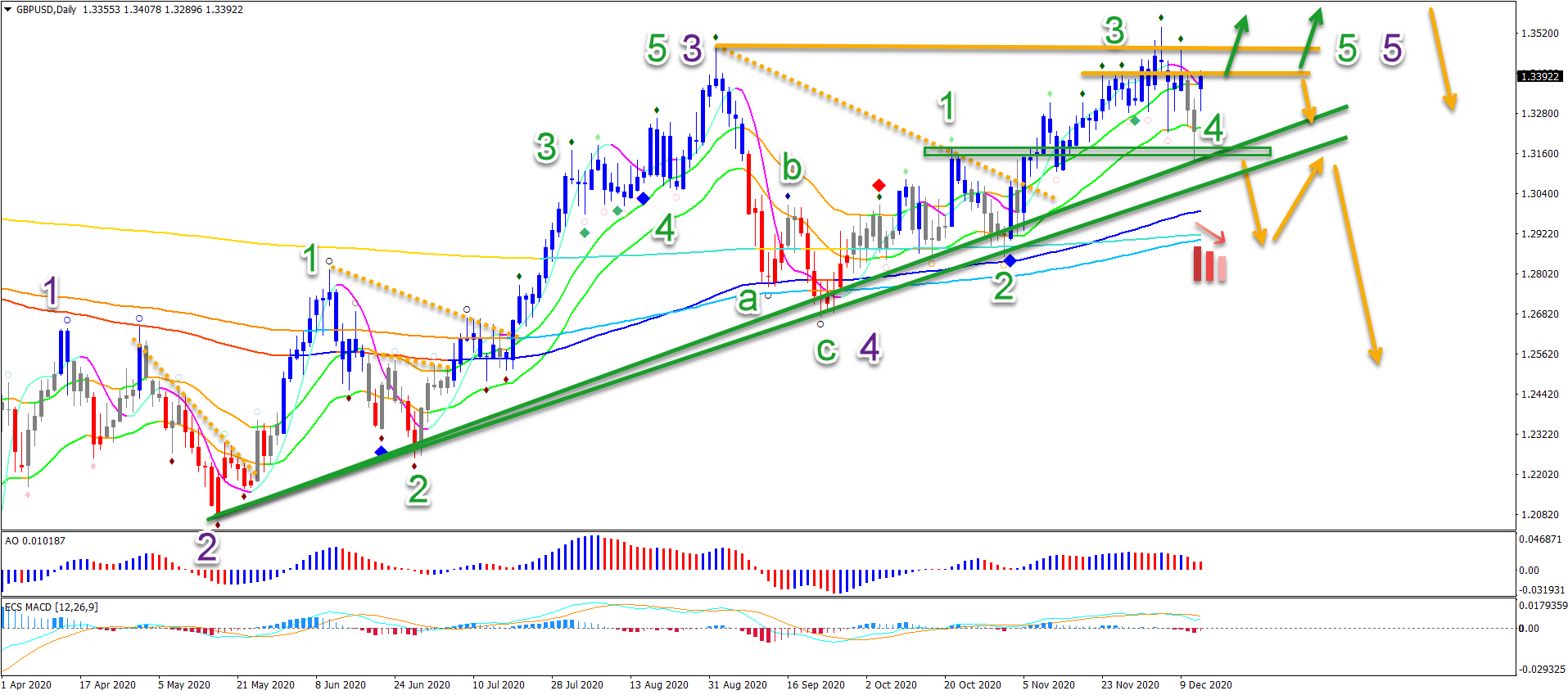 For a look at all of today's economic events, check out our economic calendar.
Good trading,
Chris Svorcik
The analysis has been done with the indicators and template from the SWAT method (simple wave analysis and trading). For more daily technical and wave analysis and updates, sign-up to our newsletter