The cryptocurrency market slightly retreated a few days ago following the new all-time high recorded by Bitcoin, but the OKB coin surged by more than 70% during that period.
OKB Rallies Following OKEx's New Campaign
OKB, the native token of the OKEx cryptocurrency, rallied by more than 70% over the past few days. The rally coincided with the broader crypto market recording huge gains and Bitcoin reaching a new all-time high above the $67,000 level.
OKEx's native coin rallied thanks to Malta-based cryptocurrency exchange launching a meme coin campaign. The cryptocurrency exchange launched a new campaign where users can compete to get their favorite meme coins listed on the platform.
Meme coins such as Dogecoin and Shiba Inu have gained widespread adoption within the cryptocurrency space over the past year. Although they were launched as humorous tokens, their adoption level soared, with the likes of Elon Musk embracing Dogecoin and everything the coin stood for.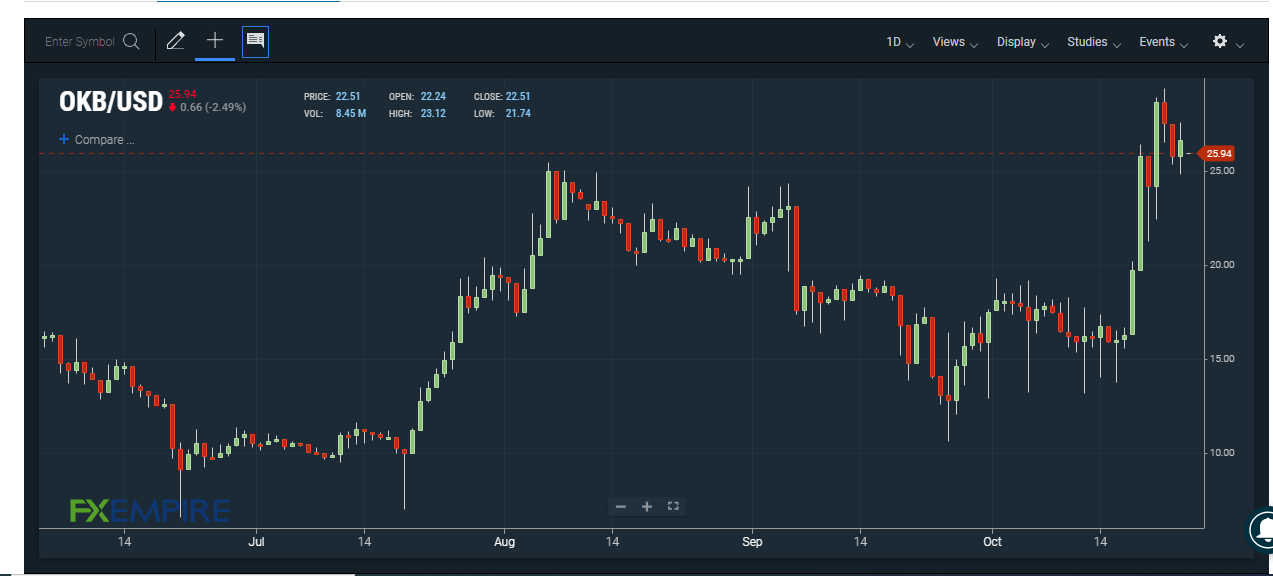 OKEx capitalized on people's desire to trade meme coins and launched a new campaign. This increased the use case of its OKB coin and, as a result, led to a surge in its trading price over the past few days.
OKB Rallies By More Than 70%
A week ago, OKB was trading at $16 per coin. However, its price increased by more than 70% to reach $28 within the space of a few days. Since trading above $28 on October 22, OKB has slightly cooled down and is now trading around the $26 mark.
The cryptocurrency market has also been impressed with the reaction following a huge BTC dump on OKEx last week.
Exactly. It means that China have dumped hard, but the market is so bullish it got eaten up straight away!

— Darth Trader Ⓥ (@DarthTrader101) October 19, 2021
Chinese traders sold more than 10,000 bitcoins on OKEx last week, but the coins were immediately purchased without altering the leading cryptocurrency's price performance. If OKB can gain support from the broader cryptocurrency market, then it could rally past the $30 mark over the next few hours.
OKB is still 39% down from its all-time high price of $44, which it achieved on May 3 earlier this year.