Natural gas futures are edging lower for second straight session on Wednesday as the latest mid-term weather forecasts predicted the current brutal cold spell would fade before the end of February and temperatures would return to more seasonal level thereafter.
Natural Gas Intelligence (NGI) also reported that "spot gas prices were mixed as the Arctic air bringing snow and freezing rain to the central United States was to begin penetrating farther south and east." NGI's Spot Gas National Average slid 19.0 cents to $3.795.
At 12:17 GMT, March natural gas futures are trading $2.795, down $0.040 or -1.41%.
Short-Term Weather Outlook
According to NatGasWeather for February 9 – 15, "Frigid air will stall across the northern and central U.S. into the weekend with highs of only -0s to 30s and lows of -20s to 20s for strong demand. Areas of light rain and snow will occur along a sharp temperature gradient between frigid air over the northern U.S. and much warmer conditions over the southern U.S. where highs from South Texas to the Mid-Atlantic Coast will be in the 70s and 80s. Frigid air over the Midwest will dive down the Southern Plains and into Texas Wednesday, then spread eastward Thursday to Sunday with lows of -0s to 30s for very strong national demand. Overall, high demand through Thursday, then very high Friday to Tuesday."
Mid-Term Weather Outlook
Beyond next week, though, the weather models have struggled to determine whether the frigid air would remain in place. The Global Forecast System model was milder overnight for the February 21 -24 period, only to flip back a bit colder in the midday run. It gained back 8-9 of the 14 heating degree days it lost, according to NatGasWeather.
"Bulls have to be frustrated recent bullish weather trends get little to no reaction higher, while bearish trends induce rapid selling," the forecaster said.
EIA Short-Term Energy Outlook
In the latest Short-term Energy Outlook released Tuesday, the Energy Information Administration (EIA) pegged storage gas inventories at the end of March sitting at 1.8 Tcf, which is roughly in line with the five-year average. The agency also projected that Henry Hub spot prices would average $2.95 in 2021, which is up from the 2020 average of $2.03.
Continued growth in liquefied natural gas exports and in domestic natural gas consumption outside of the electric power sector, as well as relatively flat production, are seen contributing to Henry Hub spot prices rising to an average of $3.27 in 2022.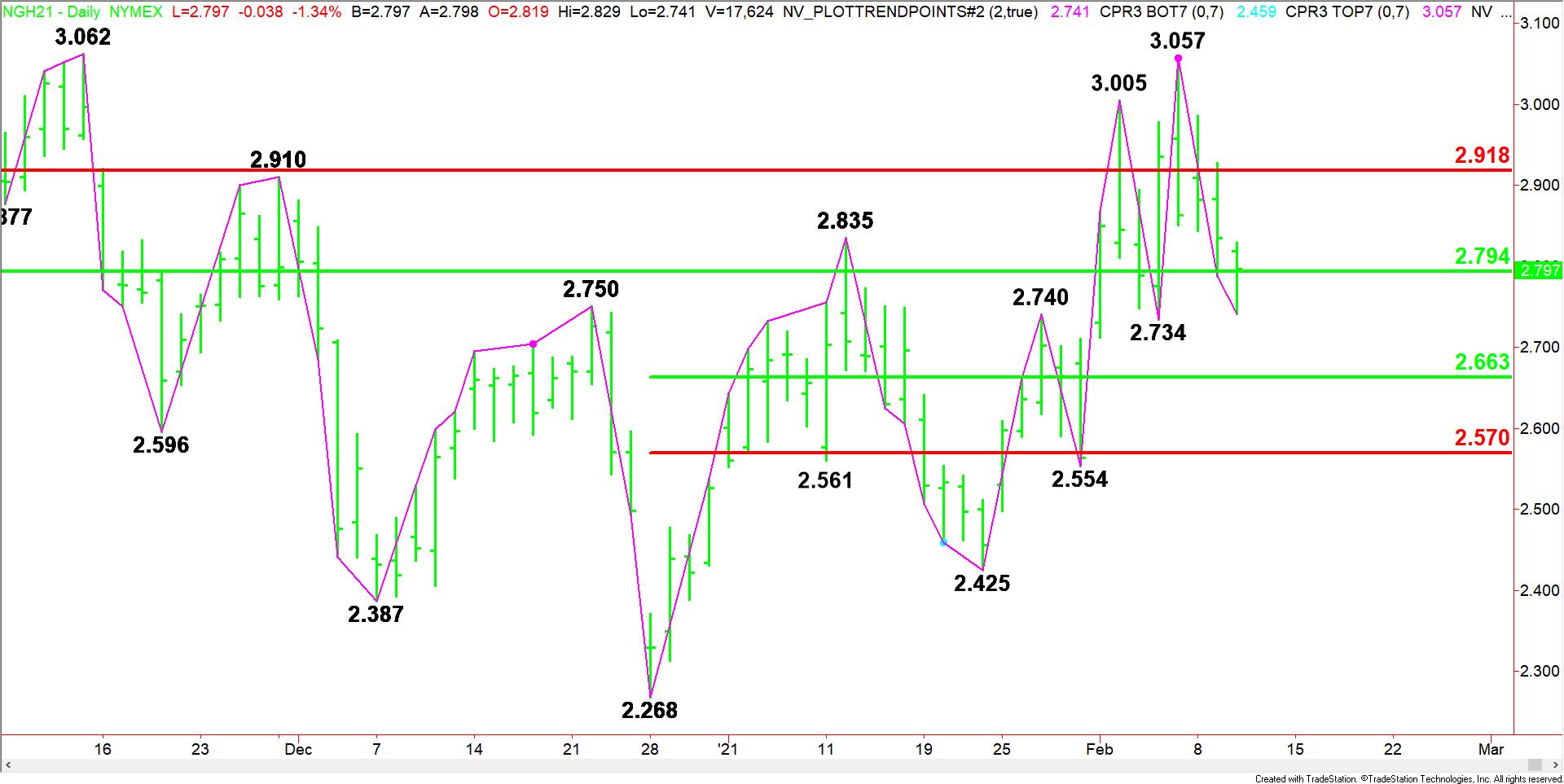 Daily Forecast
The current price action suggests the more bearish undertone in the market is likely because the upcoming rush of cold polar air already has been priced into the market. After all, it has been showing up in the forecasts for more than a week. What's changed is the cold weather into the end of the month and early March.
The daily chart indicates that a failure of support at $2.794 will be a sign of weakness. The main trend will change to down on a move through $2.734 with $2.663 to $2.570 the next likely target zone.
A sustained move over $2.794 will signal the return of buyers, but don't expect the rally to resume unless they can overcome $2.918 with conviction.
For a look at all of today's economic events, check out our economic calendar.