Natural gas futures are edging lower for a third session on Wednesday, a far cry from Monday's gap higher opening. Uncertainty over the weather and increased production are exerting the most pressure on the market, while a mixed cash market is offering little support.
At 06:26 GMT, December natural gas is trading $3.186, down $0.061 or -1.88%.
Volatile Weather Models Driving the Price Action
The overnight models lost some of the projected demand for the next couple of weeks, with the Global Forecast System (GFS) giving back nearly 10 heating degree days (HDD) and the European model losing a few more HDD on top of the several it lost Monday, according to NatGasWeather.
However, the midday GFS gained much of that back and was once again notably colder than the European model, especially with a cold shot into the Midwest and Northeast during the October 21-25 period.
The European model showed a cool shot, but it was confined to the Rockies and Plains, the forecaster said. The East, meanwhile, is quite warm in what NatGasWeather called "a relatively bearish set up."
These big weather model differences need resolving, according to the forecaster. "To our view, the GFS model is likely too cold, as it was in most instances last winter. But the European model is probably too warm after the coming Friday-Monday cold shot, so there's potential it adds demand later."
Gulf of Mexico Production Continues to Return
Natural Gas Intelligence (NGI) reported that based on offshore operator reports, the Bureau of Safety and Environmental Enforcement said around 30% of the natural gas and 44% of the oil produced in the Gulf of Mexico remained shut-in. All personnel from nondynamically positioned rigs in the Gulf of Mexico were back to work, and all the dynamically positioned rigs that had been moved off location ahead of the storm were back on location.
LNG Demand Firming
NGI reported that export demand remained strong Tuesday. NGI data showed feed gas deliveries to U.S. liquefied natural gas (LNG) terminals edging up about 44,000 Mcf to 7.08 Bcf, which is about 46,000 Mcf shy of week-ago feed gas levels.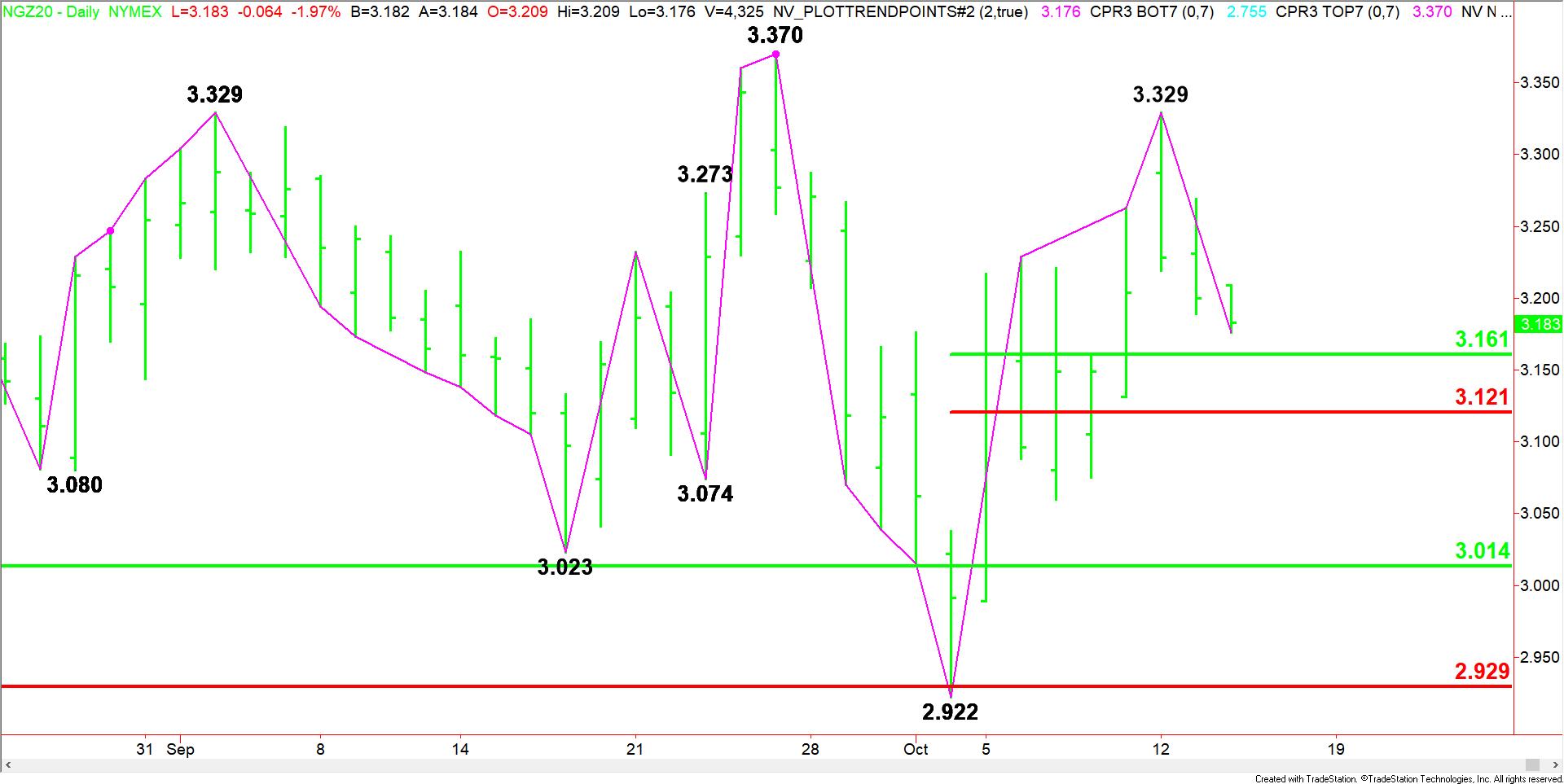 Daily Forecast
The daily chart indicates that prices are likely headed into a short-term retracement zone at $3.161 to $3.121. Trader reaction to this area could determine the near-term direction of the market.
"The issues moving forward will be the trends in the weather pattern, along with, of course, LNG volumes," Bespoke Weather Services said. However, also of importance will be how much power burns change once this current heat in parts of the South, especially Texas, wanes late this week. "For now, we see risks near equal to upside/downside."
For a look at all of today's economic events, check out our economic calendar.