Gold futures are trading higher on Thursday and higher for the week, but more importantly, the small support base it has been building the past four days is starting to take on a bullish appearance.
Now before you get too excited, we're not talking about new record highs, but if conditions are right and enough bullish speculators return, we could see a test of $1938.60 over the near-term.
At 10:17 GMT, August Comex gold futures are trading $1833.60, up $11.20 or +0.61%. On Thursday, the SPDR Gold Shares ETF (GLD) settled at $169.40, up $0.07 or +0.04%.
The Case for Higher Prices
What would be the right conditions to fuel a rally? Number one on my list is a plunge in equity markets so strong that safe-haven buying of U.S. bonds drives yields sharply lower.
A drop in yields would lower the opportunity cost of holding gold. This could encourage some weak short-sellers to cover their positions. Initially, this could trigger a surge into $1890.00 – $1900.80. But overtaking $1900.80 could create enough upside momentum to trigger further short-covering into $1917.60, followed by $1938.60.
The tricky part about playing gold for an upside breakout is navigating a stronger U.S. Dollar. If a stock market sell-off encourages flight-to-safety concerns then look for money to flow into the traditional safe-havens:  Treasury Bonds, the U.S. Dollar and the Japanese Yen.
As alluded to earlier, money will flow into gold if Treasury yields drop significantly. But a stronger U.S. Dollar will likely limit gains. That's why we're only looking for gold prices to surge into $1890.00 – $1900.80, or at best $1938.60. If it move beyond these potential resistance levels then good for you if you're long gold.
Gold could also receive some support from stock sellers who choose to park their money in bullion. But the traditional safe-havens usually attract more inflows because they are more liquid.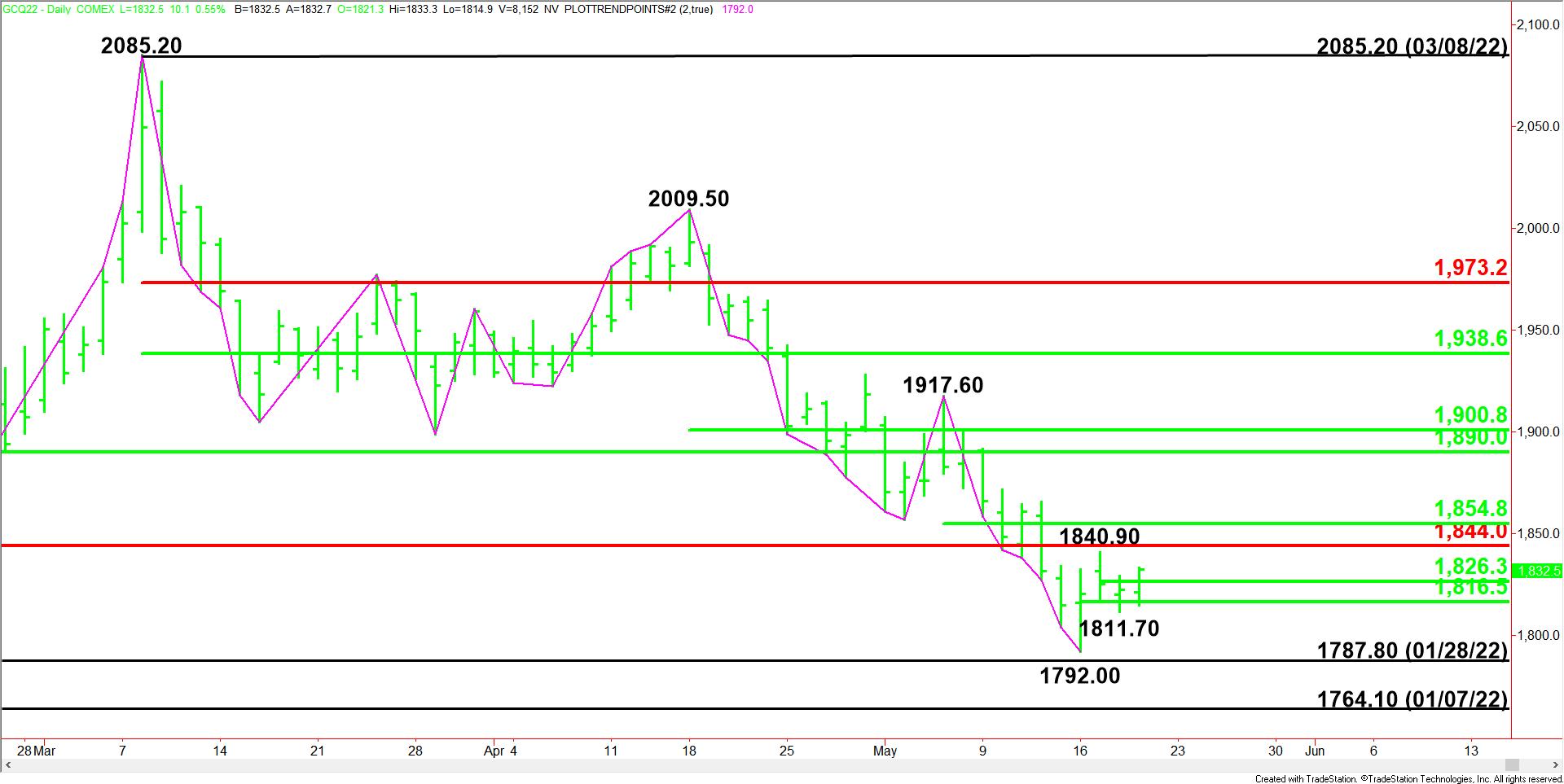 Daily Forecast
August Comex gold is currently poised to breakout out over $1854.80. This could trigger an acceleration into $1890.00 to $1900.80.
The catalyst behind the anticipated breakout will be a drop in the benchmark 10-year U.S. Treasury yield.
The first key yield level to watch is 2.84%. Taking out this level will be the first sign of weakness. The second yield level to watch is 2.77%. This could be the trigger point for an acceleration to the upside in gold.
Gold prices could spike even higher if the 10-year yield breaks through 2.70%.