The U.S. Dollar is edging higher against a basket of major currencies at the mid-session on Monday as investors begin positioning themselves ahead of the start of the U.S. Federal Reserve's two-day meeting.
The greenback is also being supported as traders cut their bearish bets to a four-year low on rising U.S. Treasury yields. According to government data, speculators cut net short positions to the lowest since mid-November in the week-ended March 9.
At 17:46 GMT, June U.S. Dollar Index futures are trading 91.865, up 0.188 or +0.21%.
Rising bond yields will continue to focus minds this week before a Federal Reserve meeting at which some analysts expect policymakers to strike an optimistic tone on the U.S. economy.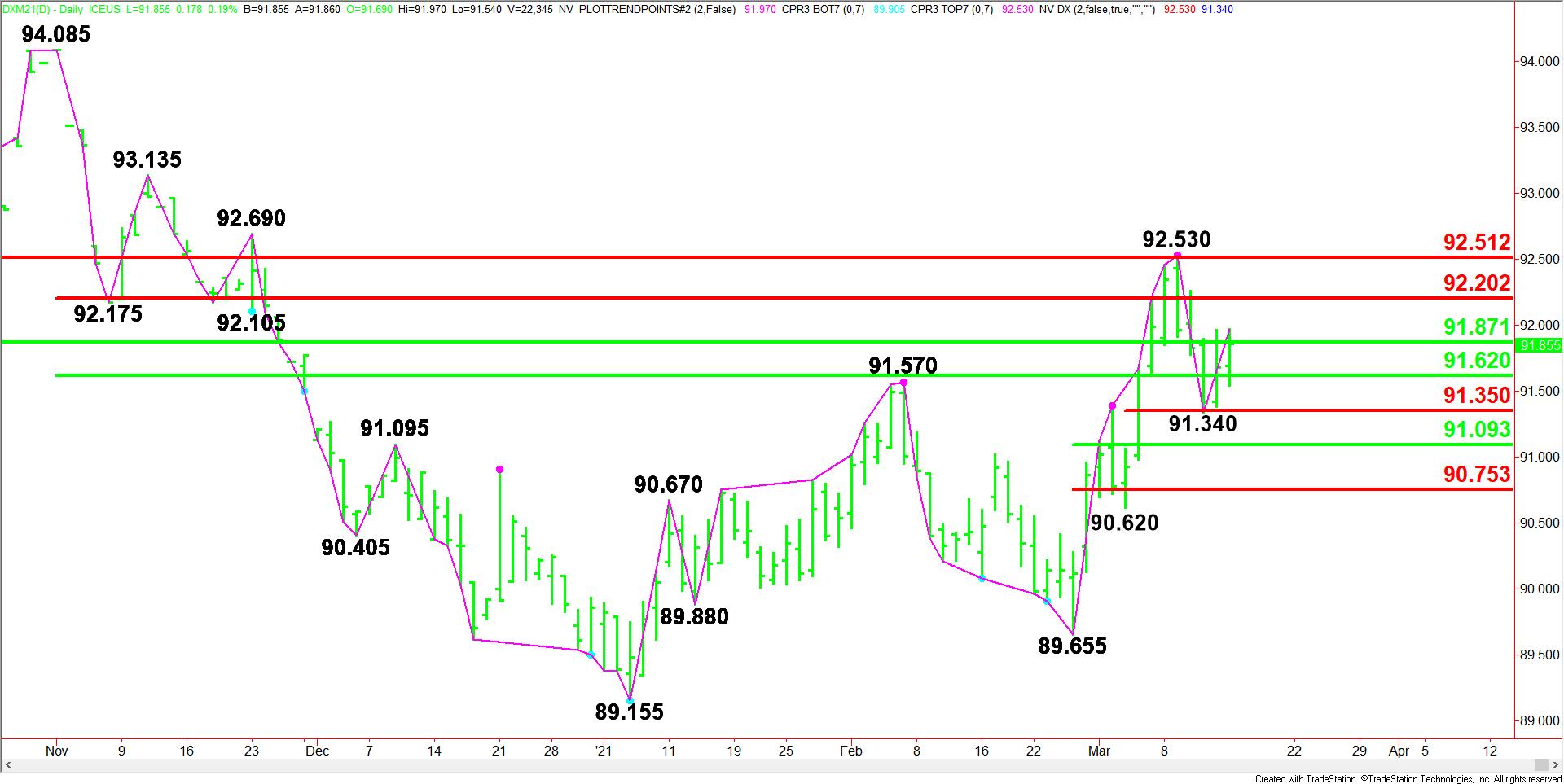 Daily Swing Chart Technical Analysis
The main trend is up according to the daily swing chart, however, momentum has been trending lower since the formation of the closing price reversal top on March 9.
A trade through 92.530 will negate the closing price reversal top and signal a resumption of the uptrend. A trade through 91.340 will change the main trend to down.
On the upside, potential resistance comes in at 91.870, 92.200 and 92.510.
On the downside, near-term support is 91.620 and 91.350.
The short-term range is 89.655 to 92.530. Its retracement zone at 91.095 to 90.755 is the primary downside target.
Daily Swing Chart Technical Forecast
The early price action suggests the direction of the June U.S. Dollar Index into the close is likely to be determined by trader reaction to 91.870.
Bullish Scenario
A sustained move over 91.870 will indicate the presence of buyers. The first upside target is 92.200.
Bearish Scenario
A sustained move under 91.870 will signal the presence of sellers. This could trigger a late-session break into the support cluster at 91.350 to 91.340.
If 91.340 fails then look for a potential spike into 91.095.