Checking in on Big Money activity however, we see a tale of two markets.
Going to MAPsignals.com we can scan Big Money ETF Buys and Sells. We see ETF buying and selling activity is partly driving volatility. You'll notice in 2020, there were clear patterns. Big selling (red bars) led markets lower followed by huge buying (blue bars) lifting markets. But this year is a washing-machine:
Long-term investors should look for ETFs (and their stocks), with great setups for the months ahead.
Remember: ETFs are just baskets of stocks so we need to look at them. MAPsignals specializes in scoring more than 6,000 stocks daily. If I know which stocks compose the ETFs, I can apply stock scores to the ETFs. Then I can rank them all strongest to weakest.
Let's get to the 5 best ETF opportunities for October.
#1 SPDR S&P Regional Banking ETF (KRE)
Financials are hot. We see Big Money has been buying KRE earlier this year. We saw fresh buy signals recently too as possible interest rate hikes could benefit lenders:
KRE holds solid stocks; one example is First Bancorp (FBP). Here are Big Money signals for FBP:
#2 iShares Russell 1000 Growth ETF (IWF)
I'm looking for growth with a twist: Recently punished large-cap growth stocks should bounce at some point. IWF displayed lots of green signals this year. And when we see red selling on great ETFs (and their stocks) it can be a great opportunity.
One great stock that IWF holds is Intuitive Surgical, Inc. (ISRG). It's a long-time outlier with awesome fundamentals, recently announcing a 3-for-1 split. The multi-year chart below shows when red appears on great stocks, it's usually an opportunity:
#3 Invesco QQQ Trust (QQQ)
We all know QQQ – the NASDAQ 100 Index tracker. It's like the Dow Jones of the 1920s. After some solid green, it's pulled back substantially and should eventually bounce.
One big winner inside of QQQ is Microsoft Corporation (MSFT). It's an outlier stock:
#4 Materials Select Sector SPDR Fund (XLB)
The first three ETFs were from the strong part of my ranked list. Now we look for bargains by identifying weaker ETFs holding stocks with strong fundamentals. The Materials sector faced pressure recently. Many companies face supply-chain headwinds. These are temporary. Long-term investors should see opportunity in temporary dislocations.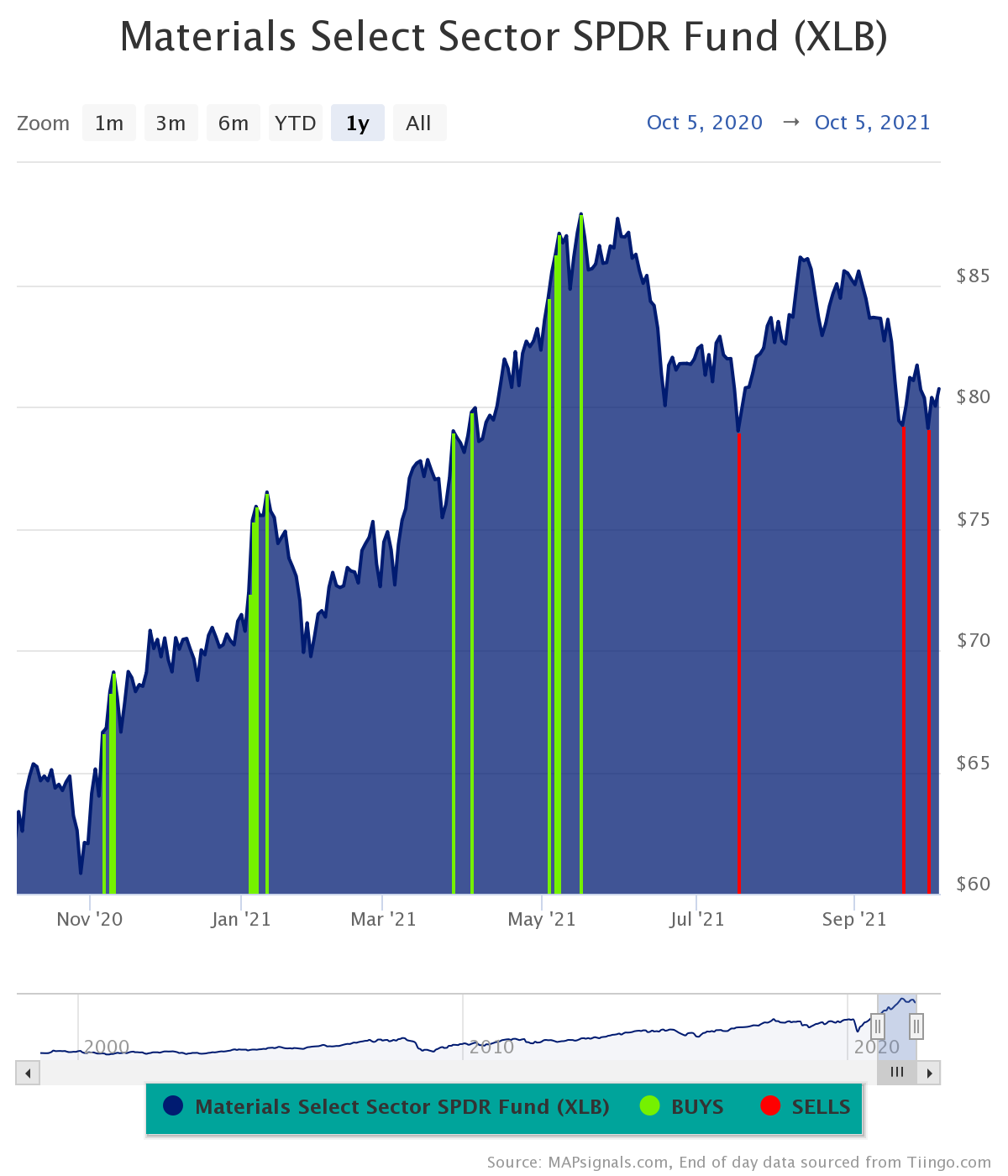 It holds great stocks. One such winner is Sherwin-Williams Company (SHW). Big Money loves it. The multi-year chart says don't bet against it:
#5 iShares NASDAQ Biotechnology ETF (IBB)
Biotech pulled back substantially. News of Merck's pill reducing hospitalizations and deaths by 50% hit the sector. I think it will recover nicely. The pullback offers a nice entry for a long-term investment:
Great stocks in IBB are seeing reaction selling to the Merck news. One is Moderna, Inc. (MRNA). Vaccines will still get manufactured and sold. I believe stocks like these will recover and thrive:
Here's a Bog Money recap:
When Big Money buying pours in, stocks tend to go up
Red selling on great quality can be a great opportunity
Repeated buying usually means outsized gains
Let's summarize here:
KRE, IWF, and QQQ rank high. XLB and IBB however, rank lower on our list, due to weaker technicals. That's why I think these weaker ETFs represent great potential bargains.
The Bottom Line
KRE, IWF, QQQ, XLB and IBB are my top ETFs for October 2021. Market volatility is hitting all stocks. They will eventually recover and thrive.
To learn more about MAPsignals' Big Money process please visit: www.mapsignals.com
Disclosure: the author holds no positions in KRE, FBP, ISRG, QQQ, MSFT, XLB, SHW, IBB or MRNA but holds long positions in IWF in managed accounts at the time of publication.