Natural gas futures are trading lower on Thursday, continuing the steep sell-off that started the previous session following a miss in the government weekly storage report. Mixed weather models, increased production and the cancellation of export cargoes also weighed on demand and consequently prices.
At 10:23 GMT, February natural gas futures are trading $2.534, down $0.054 or -2.09%.
US Energy Information Administration Weekly Storage Report
On Wednesday, the EIA reported a steep withdrawal of 152 Bcf natural gas storage for the week-ended December 18. The latest pull was shy of median estimates around 159-160 Bcf found by major polls. However, it was also more than the 146 Bcf pull recorded a year earlier and greater than the five-year average 127 Bcf withdrawal.
The latest withdrawal reduced inventories to 3,574 Bcf, though stockpiles were still above the year-earlier level of 3,296 Bcf and above the five-year average of 3,356 Bcf.
Mixed Weather Outlook
"Prices gained overnight on the colder-trending American Global Forecast System (GFS), then sold off after the European weather model disappointed on warmer trends," NatGasWeather said.
"The coming pattern is still better than it's been much of the past two months," the forecaster added, but with the European data "teasing colder systems yesterday and then backing off today, it's clearly led to disappointment."
Rising Production
NatGasWeather also noted that trading opened with news that Lower 48 production was up nearly 1 Bcf compared to last week's 91 Bcf/d. With weather-driven demand dubious, rising output "could be viewed as quite disappointing."
LNG Worries
Liquefied natural gas (LNG) levels, meanwhile, remained strong at around 11.4 Bcf Wednesday, according to Natural Gas Intelligence (NGI) data. But news media reports of LNG cargo cancellations for February injected some added skepticism for futures traders. Bloomberg reported market rumors of several U.S. cancellations for February, though a lack of shipping availability and aggressively high charter rates were cited as reasons, as opposed to waning demand.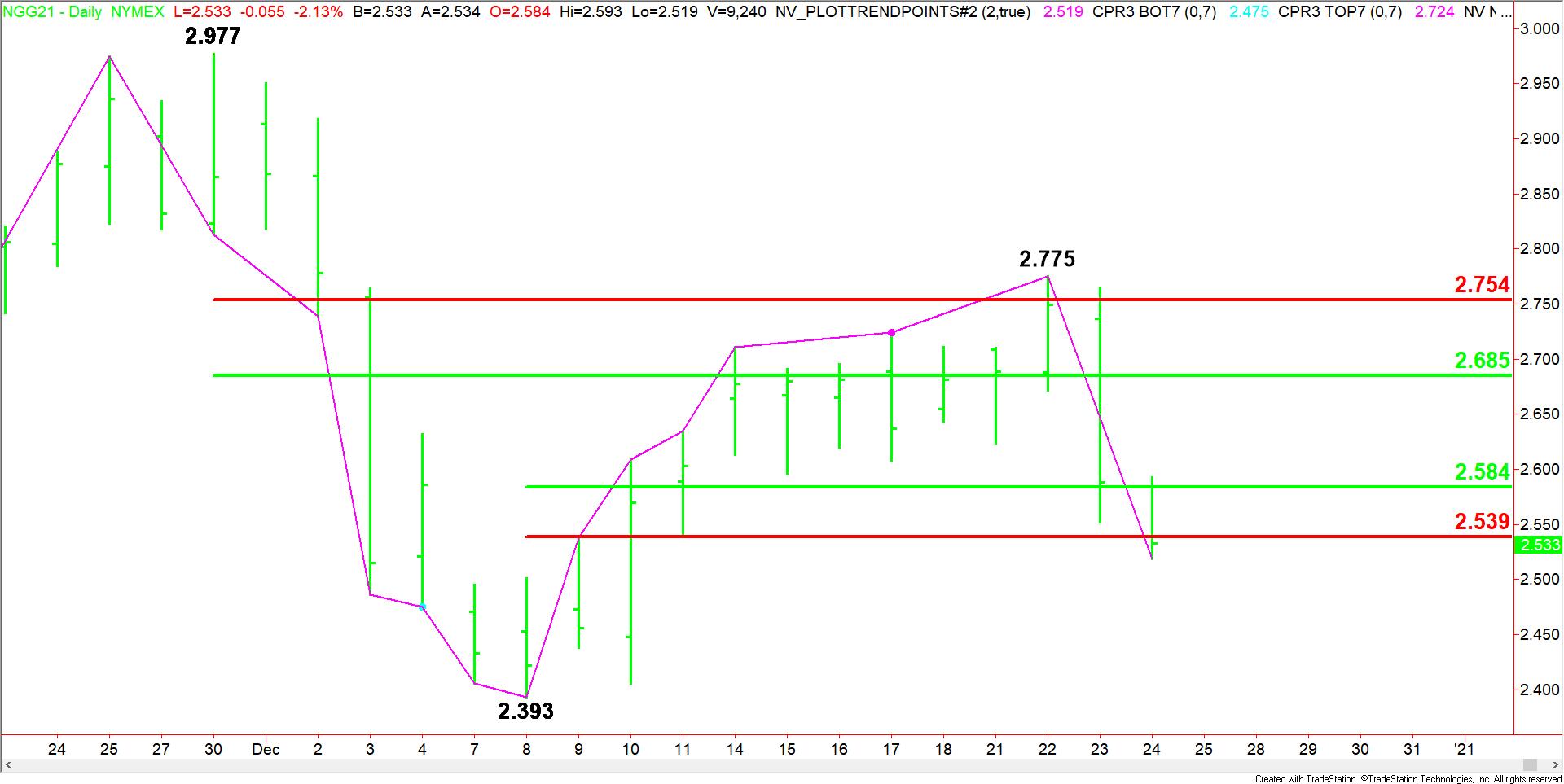 Daily Forecast
On Wednesday, February natural gas futures plunged when support failed at a key retracement zone. The price action confirms that $2.685 to $2.754 is controlling the near-term direction of the market.
The new short-term range is $2.393 to $2.775. Its 50% to 61.8% retracement zone at $2.584 to $2.539 is currently being tested. The focus for traders shifts to this area.
A sustained move under $2.539 will indicate the selling pressure is getting stronger. If this move generates enough downside momentum then look for the selling to possibly extend into $2.393.
Overtaking and sustaining a move over $2.584 will signal the presence of aggressive counter-trend buyers. If they successfully build a secondary higher bottom then look for a retest of $2.685 to $2.754 over the near-term.